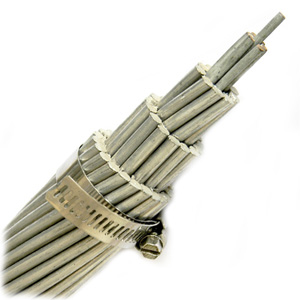 Construction:
Core: Aluminum alloy wires 6201-T81
Outer Layers: Aluminum wires 1350H-19Some of the constructions include alternate wires (1350-H19 and alloy 6201-T81) in the same layer.
Conductor: This bare concentric-lay stranded conductor is made from round aluminum 1350-H19(extra hard) wires and round aluminum-alloy 6201-T81 core wires for use as overhead electrical conductors. These conductors are also manufactured as compact conductors if required.
ACAR Conductor Property:
1.improved strength to weight ratio
2.better mechanical properties
3.improved electrical characteristics
4.excellent resistance to corrosion
ACAR Conductor Standard of Production:
1.ASTM B524 Standard, refer to the following specification
B-230 Aluminum Wire 1350-H 19 for Electrical Purpose
B-398 Aluminum Alloy 6201-T81 Wire for Electrical Purpose
B-524 Concentric-lay-stranded Aluminum Conductor, Aluminum Alloy Reinforced ACAR 1350/6201
2.IEC 61089 Standard
3. Other International Standard
Aluminum Conductors Aluminum Alloy Reinforced IEC 61089 Parameter:
Characteristics of A1/A3 Conductors
Code number
Diameter
No. of wires
Areas
Wire
Cond.
A1
A1
A2
Total
mm
mm
mm2
mm2
mm2
16
1.76
5.29
4
9.78
7.33
17.1
25
2.21
6.62
4
15.3
11.5
26.7
40
2.79
8.37
4
24.4
18.3
42.8
63
3.5
10.5
4
38.5
28.9
67.4
100
4.41
13.2
4
61.1
45.8
107
125
2.98
14.9
12
83.7
48.8
132
160
3.37
16.9
12
107
62.5
170
200
3.77
18.8
12
134
78.1
212
250
4.21
21.1
12
167
97.6
265
250
3.05
21.4
18
132
139
271
315
3.34
23.4
30
263
61.4
325
315
3.43
24
18
166
175
341
400
3.77
26.4
30
334
78
412
400
3.86
27
18
211
222
433
450
3.99
28
30
376
87.7
464
450
4.1
28.7
18
237
250
487
500
4.21
29.5
30
418
97.5
515
500
4.32
30.2
18
263
278
542
560
4.46
31.2
30
468
109
577
560
3.45
31.1
54
505
65.5
570
630
3.72
33.4
42
456
206
662
630
3.8
34.2
24
272
420
692