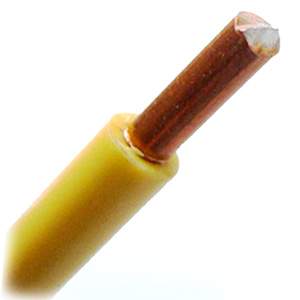 Voltage:450/750V
Conductor:Solid Copper
Insulation:PVC
Cores:Single
Standard:ASTM,IEC,DIN,BS etc.
Packaging:Iron or Wooden Drum
info@hlcables.com
Application:
Insulated conductor is used for laying in electric-installation tubes, under and on plaster installation in dry rooms and in closed installation conduits. Direct laying in cable guides is not permitted. Also applied for internal wiring of distribution and switching boxes equipment, same as for protective laying for lighting of nominal voltage up to 1000 V alternating current, or up to 750 V direct current against earth.
| | | | | | | | | |
| --- | --- | --- | --- | --- | --- | --- | --- | --- |
| Dimensions – conductor cross-section | Construction of individual conductor | External diameter | Insulation thickness | Conductor resistance at 20 °C | Specific. el. resistance of insulation at 70°C | Cu weight | Cable weight | Packing* |
| mm² | Nominal n x mm | min-max. mm | Nominal mm | Max. Ω/km | min.MΩkm | kg/km | Approx kg/km | |
| 1,5 | 1 x 1,38 | 2,6 – 3,2 | 0,7 | 12,10 | 0,011 | 14,4 | 20 | c.100 |
| 2,5 | 1 x 1,78 | 3,2 – 3,9 | 0,8 | 7,41 | 0,010 | 24,0 | 31 | c.100 |
| 4 | 1 x 2,26 | 3,6 – 4,4 | 0,8 | 4,61 | 0,0087 | 38,4 | 46 | c.100 |
| 6 | 1 x 2,70 | 4,1 – 5,0 | 0,8 | 3,08 | 0,0070 | 57,6 | 65 | c.100 |
| 10 | 1 x 3,5 | 5,3 – 6,4 | 1,0 | 1,83 | 0,0072 | 96,0 | 110 | c.100 |
Construction:
1.Rated voltage: 450/750V;Insulation Material: PVC;
1. Conductor: bare copper conductor of class 1 (solid) acc, to IEC 60228 / HD 383 / DIN VDE 0295
2. Insulation: PVC compound TI1 acc. to IEC 60227-3 / HD 21.3 S3 / DIN VDE 00281 part 3 Conductor acc. to IEC 60446 i.e. EN 60446 (corresponding to DIN VDE 0293);
Colour:(corresponding to DIN VDE 0293)
4.Temperature range: during installation: +5 °C up to+70 °C,fixed installed: -30 °C up to+70 °C, at short circuit of max. 5 s.: up tp 160 °C,ambient temperature at storage: up pt 40 °C, Nominal voltage: Uο/U = 450/750 V, Test voltage: 2500 V, Minimal inner bending radius: 4D, Behaviour in fire: IEC 60332-1
5. Standard: HRN HD 21.3 S3 IEC 60227-3 DIN VDE 0281 part 3