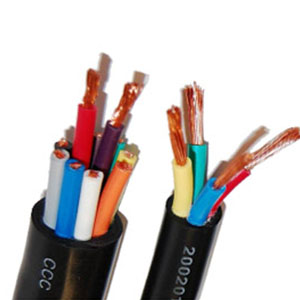 Voltage:450V/750V
Conductor:Copper To IEC 60228 Class 5 & VDE 0295 Class 5
Insulation:Rubber/ Sheat: olychloroprene
Cores:Multi-Core/h07rn f 3g1 5/
Standard:IEC/VED/DIN/ASTM etc.
Packaging:Iron or Wooden Drum
info@hlcables.com
Multi Core H05RR-F/ ho7rnf 3g1 5 Flexible H07RN-F Rubber Cable feature:
H07RN-F is a harmonized, heavy duty and flexible chloroprene sheathed cable;
Voltage Rating:Working: 450/750V, Test: 3000V. Temperature Rating:-25°C to +60°C,Static:+85°C;
Bending Radius: Flexing: 15 x cable diameter;Conductor Stranding:IEC 60228 Class 5 & VDE 0295 Class 5
Static: 6 x cable diameter,Current Rating:H07RN-F Refer to IEE Regs Table 4F1A&B;

Multi Core H05RN-F/ ho7rnf 3g1 5 Flexible H07RN-F Rubber Cable Description:
Used extensively for trailing and flexible supply leads in either single or multicore versions, these H07RN-F rubber cables remain flexible even at sub-zero temperatures.
H07RN-F rubber cables use neoprene (PCP) for its sheath. The improved abrasion resistance and the ability to withstand many oils and chemicals make the neoprene sheathed H07RN-F cables suitable for the most arduous conditions.


1. Construction: Fine copper wire strands to IEC 60228 class 5. Rubber insulation colour coded to BS 7671/HD 308 S2 (cables with over 5 cores, A07RN-F, are number coded). Cores twisted together. Black neoprene (PCP) outer sheath to BS 7919:2001 table 14.
2. Application range
• Handheld and power supply devices according to HD 516/VDE 0298-300 • According to HD 516/VDE 0298-300:… tools, machinery and agricultural devices for medium mechanical stress; for mobile engines and machinery; on plaster; not for submersion except for exceptional, brief flooding (seeH07RN8-F cable for submersible pumps);
Terminal operators require the ever-increasing performance of machines and methods. This has led to the technologically advanced machines in use today. These special, movable equipment require medium-voltage flexible
reeling cables for power supply for instance, suitable for operation under the most extreme conditions.
Huadong cable branded flexible reeling, festoon, basket, and chain cables for cranes and material handling equipment have been field-proven worldwide for decades.
In these crane applications, particular requirements such as mechanical strength and safety have led to the use of high-grade mechanically resistant rubber.
3. Multi-Core H05RN-F/ ho7rnf 3g1 5 Flexible H07RN-F Rubber Cable Benefits
• Heavy-duty, rubber-sheathed cable • High stresses • Permitted up to 1000 V (0.6/1 kV) alternating voltage for protected and fixed installation
• Arrangements made of single-core, rubber-sheathed cables H07RN-F can be used for short circuit-proof and short-to-ground-proof installations in accordance with VDE 0100 Part 520
5.Design • Bare copper wire according to HAR • Core insulation: rubber compound type EI 4 • Outer sheath: rubber compound, type EM2
6. Multi Core H05RN-F/ ho7rnf 3g1 5 Flexible H07RN-F Rubber Cable Product features
• Flame-retardant according to IEC 60332-1-2 • Oil-resistant according to EN 60811-2-1
• Normatively not ozone-resistant according to HD 22.4/VDE 0282-4 and HD 22.1/VDE 0282-1
| | | | |
| --- | --- | --- | --- |
| Part No. | Cores x mm2 | Weight kg/km | O/D mm |
| 57101002 | 2 x 1.0 | 92 | 8.3 |
| 57101003 | 3 G 1.0 | 111 | 8.9 |
| 57101004 | 4 G 1.0 | 134 | 9.7 |
| 57101501 | 1 x 1.5 | 48 | 5.9 |
| 57101501-IN | 1 x 1.5 | 48 | 5.9 |
| 57101502 | 2 x 1.5 | 109 | 8.7 |
| 57101503 | 3 G 1.5 | 137 | 9.7 |
| 57101504 | 4 G 1.5 | 169 | 10.7 |
| 57101505 | 5 G 1.5 | 206 | 11.6 |
| 57101507 | 7 G 1.5 | 371 | 16 |
| 57101512 | 12 G 1.5 | 546 | 20 |
| 57101519 | 19 G 1.5 | 777 | 23.5 |
| 57101527 | 27 G 1.5 | 1090 | 27.5 |
| 57101537 | 37 G 1.5 | 1300 | 31 |
| 57102501 | 1 x 2.5 | 62 | 6.5 |
| 57102502 | 2 x 2.5 | 162 | 10.6 |
| 57102503 | 3 G 2.5 | 198 | 11.4 |