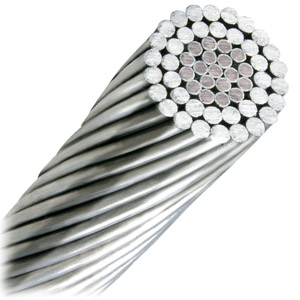 Construction:
ACSS is composed out of annealed 1350-0 aluminum wires, surrounding a galvanized steel core or aluminum clad steel core.
Conductor Properties:
ACSS can operate in high temperatures up to 250deg C, it has high conductivity therefore, it sags less and has self damping properties if pre stretched along installation.
ACSS has low tensile strength and it"s aluminum wires are considered as they contribute almost nothing to the conductor tensile strength.
Applications:
1. ACSS is recommended for use for overhead distribution and transmission lines and high temperature lines mainly when reconductoring is done over an existing line construction. In this case same tensions and loads are applied over the line but higher currents can be transferred.
2. The advantages make ACSS especially useful in reconductoring applications requiring increased current with existing tensions and clearances, new line applications where structures can be economized because of reduced conductor sag.
ACSS Conductor Parameter:
Code Word
Size
Stranding
Diameter
Weight
Rated Strength
(kcmil)
(Al/St)
(mm)
kg/km
(kN)
 
 
Al Wire
Steel Wire
Steel Core
Complete Conductor
Al
Steel
Total
Standard Strength
High Strength
Partridge/ACSS
266.8
26/7
2.57
2
6
16.31
374
172
546
39.5
43.28
Junco/ACSS
266.8
30/7
2.4
2.4
7.19
16.76
375
246
621
52.04
57.83
Ostrich/ACSS
300
26/7
2.73
2.12
6.37
17.27
421
193
614
44.48
48.49
Linnet/ACSS
336.4
26/7
2.89
2.25
6.74
18.29
471
217
688
49.82
54.71
Oriole/ACSS
336.4
30/7
2.69
2.69
8.07
18.82
473
311
783
65.83
72.51
Brant/ACSS
397.5
24/7
3.27
2.18
6.54
19.61
557
204
761
48.93
53.82
Ibis/ACSS
397.5
26/7
3.14
2.44
7.33
19.89
557
256
813
57.83
63.16
Lark/ACSS
397.5
30/7
2.92
2.92
8.77
20.47
558
367
925
77.84
85.85
Flicker/ACSS
477
24/7
3.58
2.39
7.16
21.49
669
245
913
57.83
63.16
Hawk/ACSS
477
26/7
3.44
2.67
8.03
21.79
669
307
976
69.39
76.06
Hen/ACSS
477
30/7
3.2
3.2
9.61
22.43
670
440
1110
93.41
100.97