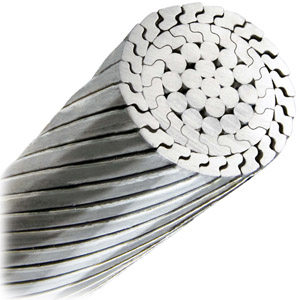 Construction:
Conductor: annealed 1350 aluminum with a conductivity of 63% IACS
Shape of aluminum wire: trapezoid
Sectional area: 240~1100mm2
Reinforced core: high tensile steel wire
Working temperature: 150°c
Standard packing length: 2500 meters
ACSS/TW-Aluminum Conductor Steel Supported-Trapezoidal Wire Application:
ACSS/TW-Al Conductor Steel Supported-Trapezoidal Wire used for overhead distribution and transmission lines.
Shaped Wire Compact Concentric-Lay-Stranded Aluminum Conductor, Steel-Supported (ACSS/TW) is a concentrically stranded conductor with one or more layers of trapezoidal shaped hard drawn and annealed 1350-0 aluminum wires on a central core of steel. Compared with the traditional ACSR conductorl of the same sectional area, ACSS/TW has smaller resistance and diameter. Besides, it can also increase the working temperature of power transmission lines.
ACSS/TW-Aluminum Conductor Steel Supported-Trapezoidal Wire Parameter:
| Code Name | KCMI) | Stranding | Cross Sectional Area (in ) | | Stranding | | | | Diameter (in) |
| --- | --- | --- | --- | --- | --- | --- | --- | --- | --- |
| Linnet/ACSS/TW | 336.4 | 16 | 0.2641 | 0.307 | 2 | 18 | 7 x 0.0884 | 0.2652 | 0.659 |
| Oriole/ACSS/TW | 336.4 | 23 | 0.2642 | 0.3258 | 2 | 16 | 7 x 0.1059 | 0.3177 | 0.693 |
| Flicker/ACSS/TW | 477 | 13 | 0.3747 | 0.4233 | 2 | 18 | 7 x 0.0940 | 0.282 | 0.776 |
| Hawk/ACSS/TW | 477 | 16 | 0.3746 | 0.4356 | 2 | 18 | 7 x 0.1053 | 0.3159 | 0.789 |
| Hen/ACSS/TW | 477 | 23 | 0.3747 | 0.4621 | 2 | 16 | 7 x 0.1261 | 0.3783 | 0.825 |
| Parakeet/ACSS/TW | 556.5 | 13 | 0.4371 | 0.4937 | 2 | 18 | 7 x 0.1015 | 0.3045 | 0.835 |
| Dove/ACSS/TW | 556.5 | 16 | 0.4371 | 0.5083 | 2 | 20 | 7 x 0.1138 | 0.3414 | 0.852 |
| Rook/ACSS/TW | 636 | 13 | 0.4995 | 0.5643 | 2 | 18 | 7 x 0.1085 | 0.3255 | 0.89 |
| Grosbeak/ACSS/TW | 636 | 16 | 0.4995 | 0.5808 | 2 | 20 | 7 x 0.1216 | 0.3648 | 0.908 |
| Scoter/ACSS/TW | 636 | 23 | 0.4995 | 0.616 | 2 | 18 | 7 x 0.1456 | 0.4368 | 0.953 |
| Tern/ACSS/TW | 795 | 7 | 0.6244 | 0.6675 | 2 | 17 | 7 x 0.0886 | 0.2658 | 0.96 |
| Puffin/ACSS/TW | 795 | 11 | 0.6244 | 0.6919 | 2 | 18 | 7 x 0.1056 | 0.3168 | 0.98 |