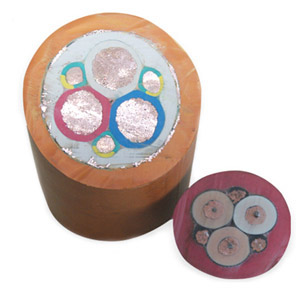 Voltage:300/750V,0.6/1kv, 6/10kv
Conductor:Copper/Tinned Copper
Insulation:Rubber/EPR
Cores:single or multi-core
Standard:IEC,VDE,DIN etc
Packaging:Iron Or Wooden Drum
info@hlcables.com
FlexibleTinned Copper EPR Coated Sheath Insulated Rubber Cable Construction:
Type:H05RR-F,H07RN-F,H07ZZ-F,H01N2-D,NSHXAFO,NSGAFOU,H07N8-F/ ,mining rubber cable.
450/750V≥1.5mm2 single core conductor; 300/500V≤1.5mm2 single core and multicore conductor; 300/300V≤1.5mm2 multicore conductor


2. Test voltage
AC1500V/5Min for 0.5~1mm2 multicore conductor; AC 2000V/5Min for 0.5~1mm2 single core and multicore conductor; AC 2500/5Min other
3. Color of insulation: Red, Yellow, Green, Light blue, White, Black, Grey, Brown, Orange, Violet, Yellow/Gree
4. Nominal cross section area: 0.5~400mm2
5. Conductor type: copper IEC60228-2004 class1,class2,class5 and 6
flexible tinner copper EPR insulated rubber sheath cable application:
rubber cable is suitable for the drives devices, household electrical instrument, all kinds of portable electrical equipments and electromotive tools at A.C. rated voltage up to and including 450/750V. The long-time max. permissible working temperature of conductor is 60℃.
Standard:IEC,VDE,DIN etc.

Mining Rubber Cable Type: