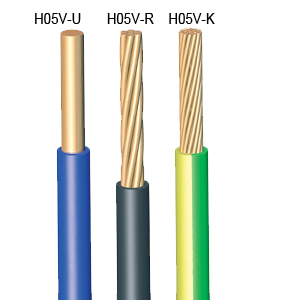 Voltage:300/500V
Conductor:Copper class 1,class 2, class 5
Insulation:PVC
Cores:single/multi core
StandardASTM,IEC,DIN,BS,AS,CSA,NFC,SS,etc
Packaging: 100ft/roll, 100m/roll, 300ft/roll
info@hlcables.com
H05V-U,H05V-R,H05V-K (300/500V Copper Conductor PVC Insulated Wire) meets or exceeds the requirements of all international standards like ASTM,IEC,DIN,BS,AS,CSA,NFC,SS,etc. in addition, we also accept OEM service to meet your special request.
Construction:
Conductors: annealed copper conductor acc. to EN 60228, :
class 1 solid H05V-U,
class 2 stranded H05V-R,
class 5 flexible H05V-K,

Application:
H05V-K cable is used for the internal wiring of electric motors and transformers as well as other electrical appliances and lighting applications. It can be used in and at electronic appliances for measuring, regulating and controlling. The cables are also ideal for laying in pipes, surface wiring and conduit installations. Specifications according to HD 516 apply for respective specific applications.
H05V-U cable is intended for the installation to the inside of apparatus as well as for the protective laying to the lightings, in dry rooms, in production facilities, switch and distributor boards, in tubes, under and surface mounting of plasters.
H05V-R cable is preferably for installation indoors, in cable ducts and in industrial plants or switching stations, under ground installation. Can be used in switchboards and distributor boards or where a thicker strand of multi-wire is required.Found in electronic and electrical equipment and switchgear cabinets designed for export to a European country and for MRO replacement of European made equipment wire.


H05V-K -U -R PVC Industrial Cable 300/500V Technical Data :
| | |
| --- | --- |
| Rated voltage | 300/500V |
| Test voltage | 2000V |
| Flexing bending radius | 12.5 x Ø |
| Static bending radius | 12.5 x Ø |
| Flexing temperature | -5º C to +70º C |
| Static temperature | -30º C to +80º C |
| Flame retardant | IEC 60332.1 |
| Insulation resistance | 10 MΩ x km |
H05V-K PVC electric wire 300/500V Specification:
| | | | |
| --- | --- | --- | --- |
| CONSTRUCTIONn x mm2 | OUTER DIAMETERcca. mm | Cu WEIGHTkg / km | CABLE WEIGHTcca. kg / km |
| 1 x 1.5 | 3 | 14,4 | 20 |
| 1 x 2.5 | 3,6 | 24 | 30 |
| 1 x 4 | 4,1 | 38 | 50 |
| 1 x 6 | 4,6 | 58 | 65 |
| 1 x 10 | 6 | 96 | 110 |
| 1 x 16 | 7 | 154 | 165 |
| 1 x 25 | 8,5 | 240 | 242 |
| 1 x 35 | 9,9 | 336 | 350 |
| 1 x 50 | 11,7 | 480 | 482 |
| 1 x 70 | 11,7 | 672 | 662 |
| 1 x 95 | 15,3 | 912 | 885 |
| 1 x 120 | 16,8 | 1152 | 1123 |
| 1 x 150 | 19,2 | 1440 | 1390 |
| 1 x 185 | 21,3 | 1776 | 1733 |
| 1 x 240 | 23,8 | 2304 | 2264 |
H05V-U PVC electric Cable 300/500V Specification:
AWG
No. of Cores x
Nominal Cross Sectional Area
# x mm²
Nominal Overall
Diameter
mm
Nominal Copper
Weight kg/Km
Nominal Weight
kg/Km
20
1 x 0.5
2.1
4.8
9
18
1 x 0.75
2.2
7.2
11
17
1 x 1
2.4
9.6
14
16
1 x 1.5
2.9
14.4
21
14
1 x 2.5
3.5
24
33
12
1 x 4
3.9
38
49
10
1 x 6
4.5
58
69
8
1 x 10
5.7
96
115
H05V-R PVC wires 300/500V Specification:
AWG
No. of Cores x
Nominal Cross Sectional Area
# x mm²
Nominal Overall
Diameter(mm)
Nominal Copper Weight
kg/Km
Nominal Weight
kg/Km
20(7/29)
1 x 0.5
2.2
4.8
9
18(7/27)
1 x 0.75
2.4
7.2
12