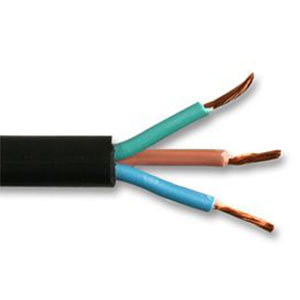 Voltage:0.6/1kv
Conductor:Copper/tinned copper
Insulation:Rubber/EPR
Cores:1,2, 3, 4, 5, 6 7 core
Standard:IEC/VDE etc
Packaging:Iron or Wooden Drum
info@hlcables.com
Flexible Rubber 2pncts, 3/ 2 PNCT-F/R Cable Description:
Voltage:0.6/1kv.
Temperature Rating:-25°C to +60°C
Bending Radius:Flexing: 15 x cable diameter; Static: 6 x cable diameter;
Current Rating:H05RR-F Refer to IEE Regs Table 4HF3A&B
Conductor Stranding:To IEC 60228 Flexible 2pncts, 3/ 2 PNCT-F/R Cable rubber cables use a standard grade rubber compound for the cable outer sheath and are suitable for light duty applications.

1. Construction: Fine copper wire strands to IEC 60228 class 5. Rubber insulation colour coded to BS 7671/HD 308 S2. Cores twisted together. Black rubber outer sheath to BS 6500:2000 table 12 and BS 7919:2001 table 10.
2. Application range
• Handheld and power supply devices according to HD 516/VDE 0298-300
• Lightweight workshop tools that are subject to light loads
• According to HD 516/VDE 0298-300: dry and damp rooms; only temporary use outdoors; not for industrial/commercial or agricultural facilities, except tailors/cutting workshops; not suitable for supplying industrial power tools
• Light & sound technology

NO.of  conductor
Conductor
Insulation thickness
(mm)
Sheath thickness
(mm)
Overall

diameter
(mm)

Max Conductor resistance at 20℃

Ω/KM

      Normal area    mm²
Construction(NO./mm)
1
0.75
24/0.20
0.8
0.8
4.6±0.2
26
26.7
1
32/0.20
0.8
0.8
4.8±0.2
19.5
20
1.5
30/0.25
0.8
0.8
5.1±0.2
13.3
13.7
2
0.75
24/0.20
0.6
0.9
6.4±0.2
26
26.7
1
32/0.20
0.6
0.9
7.0±0.2
19.5
20
1.5
30/0.25
0.8
1
8.7±0.2
13.3
13.7
2.5
49/0.25
0.9
1.1
10.2±0.3
7.98
8.21
3
0.75
24/0.20
0.6
0.9
7.0±0.2
26
26.7
1
32/0.20
0.6
0.9
7.4±0.2
19.5
20
1.5
30/0.25
0.8
1
9.1±0.2
13.3
13.7
2.5
49/0.25
0.9
1.1
10.8±0.3
7.98
8.21
4
56/0.30
1
1.2
13.3±0.4
4.95
8.09
6
84/0.30
1
1.4
15.4±0.5
3.3
3.39
4
0.75
24/0.20
0.6
0.9
7.7±0.2
26
26.7
1
32/0.20
0.6
0.9
8.0±0.2
19.5
20
1.5
30/0.25
0.8
1
10.1±0.3
13.3
13.7
2.5
49/0.25
0.9
1.1
12.1±0.4
7.98
8.21
4
56/0.30
1
1.2
14.8±0.5
4.95
8.09
6
84/0.30
1
1.4
17.1±0.5
3.3
3.39
3. Benefits
• Type-compliant versions -certified with testing and certification mark for accelerated granting ofapprovals if final application of cable is within the European  area
4.Flexible Rubber 2pncts, 3/ 2 PNCT-F/R Cable Design
• Bare copper wire according to HAR
• Core insulation: rubber compound type EI 4
• Outer sheath: rubber compound, type EM3
5. Product features
• Ozone-resistant
• No flame retardancy according to IEC 60332-1-2