MC/MCP-0.38/0.66 MCP/MCPJB/MCPJR/MCPT-0.66/1.14  Mining cable
Product Description
I, cable rated voltage of 0.3/0.5kV, 0.38/0.66kV, 0.66/1.14kV, 1.9/3.3kV, 3.6/6kV, 6/10kV six levels.
II, the cable conductor has two kinds of working temperature: U (M) CPT-0.66/1.14kV, CPJB-0.66/1.14 (M) U, U (M) CPJR-0.66/1.14 cable and 1.9/3.3kV, 3.6/6kV, 6/10kV cable is 90, the other is 65.
III, cable minimum bending radius: u (m) CPJB-0.66/1.14, u (m) CPJR-0.66/1.14 cable minimum bending radius is 15 times of the cable diameter. The remnants of cable diameter of 6 times.
IV, the earth wire should be a good grounding.
V, cable shall not be exposed in the sun.
Product implementation standard
I, not to extend the cable for the implementation of the GB12972 "mining rubber soft cable
II, flame retardant cable for the implementation of MT818 "coal mine with flame retardant cable"
III, special mining cable (large cross-section, high voltage cable, etc.) implementation of enterprise standards
(N)TSCGEWÖEU – H.V. Crane Reeling Cable
CONSTRUCTION DETAILS
Conductor (refer also to DIN VDE 0295) Electrolytic copper tinned, very finely stranded, class FS
Insulation (refer also to DIN VDE 0207, Part 20)
High grade special compound based on highquality EPR (at least 3GI3); improved mechanical
and electrical characteristics Field control For designs from 3 to 30 kV:
inner semi-conductive layer of EPR, outer semi-conductive layer of modified NBR, capable of being stripped when cold
and thus extremely easy to prepare .
Core identification : natural coloured insulation with black semi-conductive layer
Core arrangement Laidup with length of lay 7 x D(core diameter), threecore diameter, earth conductor split into 3 parts
Sheath system Sandwich: double layer inner sheath
Special compound based on EPR, quality at least 5GM3, also served as water barrier, color: red
Antitorsion braid: reinforced braid made of polyester threads, in a vulcanized bond between
the sheaths. Resulting in high strength of the sheath system.
A sheath system with a unique combination of flexibility and robustness has been achieved
through the use of a new sandwich structure.
Abrasion and tearproof high grade rubber compounds based on PCP, quality at least 5GM5 colour: bright red/red
Marking (N)TSCGEWOEU (number of cores)x(crosssection) (rated voltage) (year of manufacture) (serial number)
REFERENCE STANDARDS
DIN VDE 0250, Part 813, MSHA P1894; GOST R
REELING & TRAILING CABLES BASED ON AS/NZS 1802 for Coal Mining Machine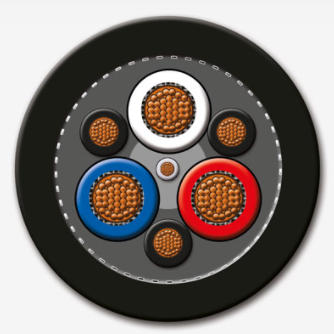 Conductor: Flexible stranded tinned annealed copper conductor
Insulation: EPR R-EP-90
Insulation earth screen: TRATOS Semi conductive elastomer with a maximum volume resistivity of 1 Ω.m
Cradle Separator: Semi conductive PCP
Three separate Earth cores flexible stranded tinned copper conductor, semi conductive covering with a maximum volume resistivity of 1 Ω.m laid one in each interstice
Semi conductive PCP collective screen with a maximum volume resistivity of 1 Ω.m
Open weave braid reinforcement
Outer sheath: TRATOS OUTER SHEATH®, better than heavy duty PCP sheath (HD-85-PCP). Sheath reinforcement or a Heavy duty CPE/CSP sheath can be offered upon request
Standard colour: black
Typical Marking: TRATOS + R-EP-90/HD-85-PCP + TYPE 241.1 + YEAR + SIZE + Metre Mark
Core identification as follows: Power core identification by printed numbers on the semiconducting outer layer. Interstitial earth cores, Black. Pilot Core identification coloured insulation (Grey) .
STANDARDS: AS/NZS 1802 AS/NZS 1125 AS/NZS 3808 AS/NZS 5000 .1
Type G/ Type W/ Type SHD-PCG Three-Conductor Portable Power Cable 2kV
Type SHD-PCG Three-Conductor Portable Power Cable 2kV
Conductors: Stranded annealed tinned copper conductor.
Insulation:EPR.
Insulation Shield:Non-conducting Tape + Tinned copper/textile braid.
Control Group (3 Conductor):Tinned copper conductor, EPR insulation and thermosetting sheath.
Colour of insulation: Black, white and red.
Grounding Conductor:Tinned copper conductor, located in the center of the cable.
Sheath: Reinforced extra-heavy-duty Chlorinated Polyethylene(CPE), black. Other sheath materials can be offered upon request.
Options:
Other jacket materials such as CSP/PCP/NBR/PVC are available upon request.
Two-layer jacket with reinforcing fibre between the two layers can be offered as an option.